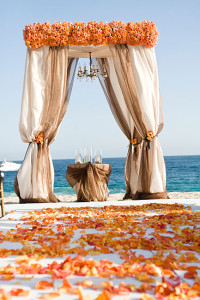 We, at Cabo Flowers and Cakes, get a lot of pictures sent to us of floral items that brides want us to (re)create for their weddings.  What is our most requested chuppah?  It's this beautiful design that we created for Paulina and Michael's beach ceremony at El Dorado Beach & Golf Club!  Because it is so loved, we decided to feature their wedding as this month's Real Wedding Highlight. (Plus the antique chandelier is just simply gorgeous!)
Paulina and Michael were high school sweethearts.  Her mom owned a house in Cabo, where she had spent many wonderful days and weeks, and so when she and Michael decided to get married, they knew Cabo was the place!  El Dorado was a gorgeous option for their ceremony and reception, and so the planning began.
With orange being their primary color, and brown, natural beige, and yellow being highlight colors, we focused on a simple arrangement of just orange/yellow cala lilies for her bridal bouquet .  Paulina wanted to let the bright colors speak for themselves, without crowding in lots of secondary colors.  We think her approach worked wonderfully!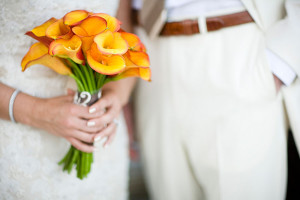 However, when it came time to decorate for her reception tables, Paulina knew that she wanted to create table centerpieces that were spectacular, and that added some additional color to her bronze table linens.  She added in white and orange roses, with green cymbidium orchids and draped Belles of Ireland, with alternating dark wood pillars and bronze urns, for a high-low look.  With the glow of her amber candles, the tables were so romantic and carried out her brown and orange theme perfectly!  We at Cabo Flowers and Cakes are proud to have been a part of this amazing Cabo wedding! And we'd be happy to re-create this look for you, too!