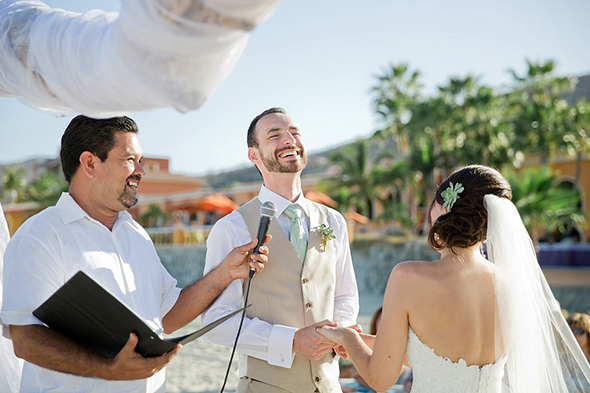 We don't think it's any secret that we LOVE Cabo weddings! We have been providing flawless flowers, dramatic decor and class-act cakes to our beloved clients for many, many years. We've also been providing wedding officiant services for the past few years, but thought, hey, it's time to tell the world a little bit more about who our wonderful officiant is.
Meet Joel Lopez Taylor. Handsome, isn't he? But he's also a special person, who is gifted with a spirit to be of service.  As an administrative employee for Cabo Flowers & Cakes, he was witness to thousands of weddings, as he prepared the florals and decor for these celebrations.  With a desire to be more involved, his position evolved into working with brides and grooms to create the ceremony that they had dreamed of, but weren't quite sure how to put into words. Joel works with bridal couples to create a truly unique wedding ceremony. (for those couples who are less creatively inspired, he can provide  wedding script templates that can be used as a whole or cut an paste from to create the ceremony that you want.)
Note: Cabo weddings (unless performed by a licensed Mexican judge) are all symbolic, non-legal, non-denominational ceremonies.
To book Joel as a minister for your Cabo wedding, please contact him at: 
joeltaylor78@hotmail.com
 or call the Cabo Flowers & Cakes offices at (011 52) 624 105 145