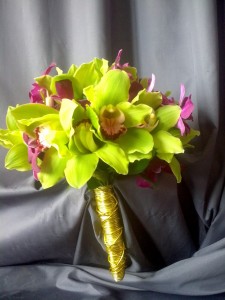 Cabo has a million reasons why it is one of the most popular wedding destinations in the world!  We have the amazing temperatures, the crystal clear blue water, the Arch, the Mexican hospitality…and so much more!  We at Cabo Flowers and Cakes also know that our flower decor and design can rival the top floral design companies in the good ole US of A.  With that being said, however, it is always important for a bride to know exactly what she can expect when she comes to Cabo to get married…in terms of her flower choices and their availability.  One thing brides may not realize is that on the Baja peninsula, no cut flowers are grown.  OK, a few mini cala-lilies at special times of the year, but 99% of the time, we are required to import our flowers from the Mexican mainland and there are limits to the types of flowers that we can get at certain times of the year.
We at Cabo Flowers and Cakes love orchids as much as any bride with some time on her hands and a keyboard to Google "orchids."  We love the Eria Orchid and the Lycaste Orchid, and all the bearded orchids too! However, and we say this with a sad face, these are not available to us here in Baja.  The orchids that are available to us, though, are fabulous and fancy and will make a splash at your Cabo wedding.  So, which orchids can you get for your wedding here in Baja?
–Cymbidium Orchids in yellow, green, white, light pink, and darker pink
–Dendrobium Orchids in white, green, and fuchsia
–Oncidium Orchids in yellow
–Phalaenopsis Orchids in white & fuchsia
Rest assured that with our creative designs and floral know-how you'll never miss the orchids we can't get and you'll be thrilled with the orchids that we can!   Another important note in regard to our orchids: we can also paint or tint with special floral paints to modify and enhance the colors. Just let us know what you need – we are here to create what you want.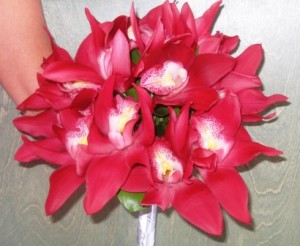 Here are some wonderful ways that we have created magic with these magical plants…real weddings with really beautiful results!
And check out our website and Facebook page (Cabo Flowers and Cakes) for even more photos of all of our work: